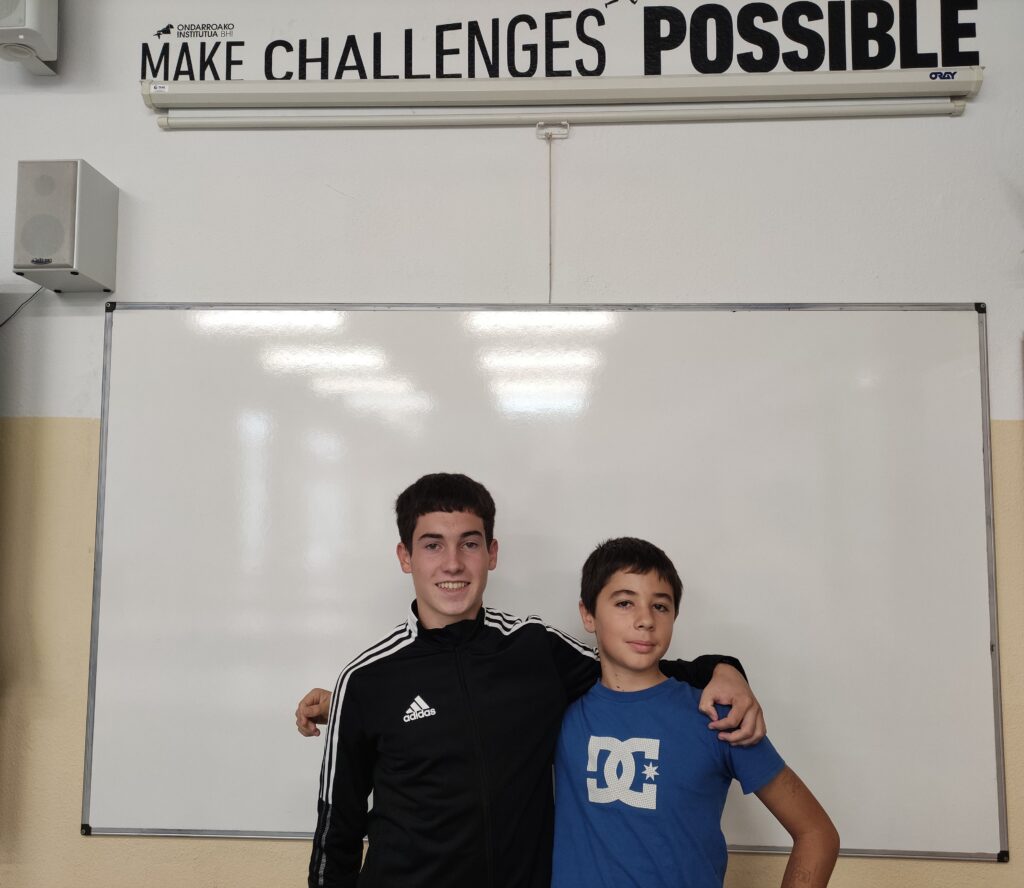 Jon Gutierrez Zendoia is a first year student. Since childhood he has been immersed in the world of technology and little by little, he is already taking his first steps. The following attractive interview was made by Xabier Urteaga Zendoia, a high school student. Congratulations to the two for the excellent work they have done!!
1.- How did you begin in this world of technology?
At the age of 5, without anyone telling me anything, it occurred to me and I began to carry out my first projects on my own, using rolls of toilet paper, when I made a castle to put small cars. I don't remember exactly how long it took, but I think it would take a week to finish the work.
2-In the school, have you had the opportunity to dedicate yourself to this?
I have done Elementary at Zaldupe School, and although from time to time, we had workshops, we used to have few activities related to technology. A couple of times a year, ESO and high school students came with Zigor to talk about their work in the area of Technology. Sometimes we were given the opportunity to try their projects and I liked that very much.
3-Do you follow people who dedicate themselves to this world?
I'm usually inspired by the videos I see on social media (YouTube and TikTok). I have no specific reference, but there is an American YouTuber that I love.
4-In terms of languages, how many languages can you speak? Do you give English a practical use of technology?
I am able to communicate in three languages. Basque is my mother tongue and I also speak Spanish and English. I know that in the field of technology there is a practical use for English, but at the moment I have not come across that.
5.- What about the three most important projects carried out by you?
First of all, I made an orthopedic or prosthetic hand. I took the hand of a robot of whole body and putting some rings in the claws and tying these with some straws that carried the rope inside, I managed to move the hand. At first, my idea was to make a costume, but following a video seen on YouTube, I changed my plan and decided to do it.
Then I made the "pinball". It took me about a month to complete this work and I took advantage of the gamer chair box.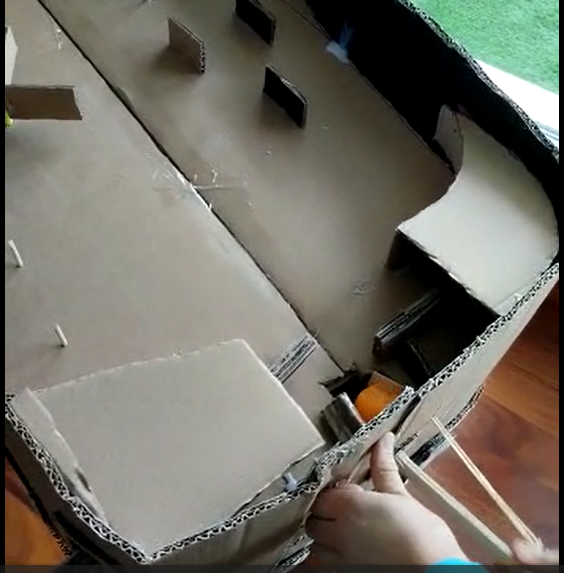 Finally, in the last week of summer holidays this year, after spending the whole morning working every day, I did a bumper car. With the cardboard I made the chassis and ornaments. On the bottom, you put the carver and as it holds with some tubes, it does not tip over.
6-Do people know what you do?
Lately, people have been surprised about the projects I had carried out. Especially, my friends, when I went to high school with the bumper car. Even people older than me started asking me questions and the bumper car attracted the eyes of many people.
7-When doing these tasks, do you get any help? Where do you get the material?
Although most of the time I do them myself, sometimes my father gives me a hand to make my work easier. In order to carry out this work I obtain the material through my father, who works in a hardware store. From there he gets me the cartons I need.
8- Looking ahead, what do you have in mind? What would be your dream?
When I get to university I would like to study architecture to specialize in modern buildings. On top of that, my dream would be to buy a plot of land to work the wood or create something using this material.